Still racking your brain on what to give that LEO in your life? Well, there's no time like the present to come up with the perfect … present. (Didn't see that one coming, did you?)
We asked some of our closest and dearest friends, who also happen to be cops, to share their wish lists. While some gifts are more practical than others, it's all about the expression on their face when they tear off that wrapping paper. So, whether you have a shock-and-awe approach or if you just want to appeal to basic needs, here's 11 things that will make this year's holiday gift-giving ritual all the more merry (and tactical).
1. Paracord Survival Bracelet ($22.95) – In a urgent situation, this survival bracelet gets all James Bond. It can be deployed for paracord use. Best part? If you actually wind up using this handy tool, SurvivalStraps.com will send you a new one for free when you share your story.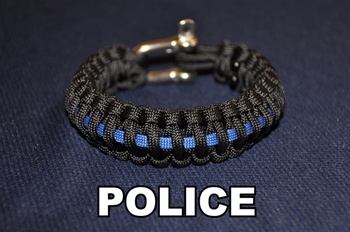 2. Base Layers ($34.99-$139.99) – How would you like to be out on the mean streets all night in the winter cold without a few base layers? Great news for those in need—Propper International has discontinued its Adventure Tech layering system, which means the entire series is discounted 33 to 50 percent. Side note: Due to the spectacular nature of these deals, no returns are accepted. Take the good with the bad, my friend!
3. Streamlight MicroStream LED Pen Light ($28) – Enlighten your officer with a concealment-size flashlight. That way, they'll never be left in the dark.
4. Giant Donut Kit ($19.99) – Sure, it's stereotypical. But it's also hilarious. And bringing a giant donut into the station can only increase your popularity, right? If you don't have a hankering for huge donuts, check out this mini-donut maker. Truly a win-win.
5. SERPA Holster ($47.19) – We've heard only good things about SERPA holsters, especially when it comes to concealment.
6. Raincoat ($144.99) – When it comes to inclement weather, those flimsy department-issued ponchos just don't cut it—or cover it. 5.11 Tactical makes a snazzy, waterproof raincoat that has mic-loops, badge tabs and adjustable sleeves. Stormy weather has certainly met its match.
7. Gun Mug ($17) – Another eye-roller. It might be too cheesy for the chief. If that's the case, opt for a travel mug instead.
8. Military-Grade Watch ($156) – How often do you use military time? This is a question that should be asked before any watch purchases are made. Answering "yes" only means a more tactical watch is in the future.
9. Crime Scene Band-Aids ($4.95) – It might not cover all your on-the-job boo-boos. Actually, it more than likely won't cover most. However, that doesn't take away from the fact that it's just a fun, first-aid gift.
10. Sunglasses ($100-$200) – Choosing between aviators and a more classic style will prove to be the toughest part. That and deciding whether to pick up Ray-Bans or Oakleys. Wait, does Oakley even make aviators?
11. Monopoly: LEO Edition ($39.95) – What's a holiday without a little family board game fun? This time the tiny Monopoly man has the law on his side. It's basically the same game with questionably clever names such as Larceny Lane and Handcuff Highway. But you're still going to wind up in jail!