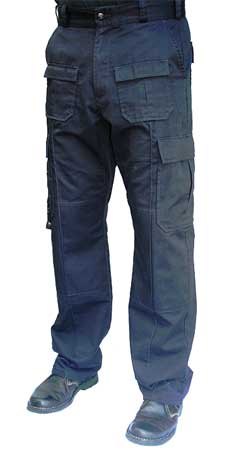 Considering its extensive collection of tactical pants, it was only a matter of time before EOTAC released its very own duty pant.
The tactical clothing company, run by amiable president and founder Fernando Coelho, announced the debut of the Operator Grade Duty Pant this week. Based on the duty pants worn by the NYPD, it's a lightweight blend of 65% cotton and 35% polyester—just the opposite blend of Vertx's new lightweight tactical duty pant, a pant that hasn't even been officially released yet (expect a short review with pictures of the Vertx lightweight pant very shortly on Tactical Pants Blog).
Although we have yet to get our hands on a pair of EOTAC's duty pants, there's no doubt that they are made with the same precision and attention to detail as their tactical pants. Back in February we asked Coelho about his initial impressions about the tactical clothing industry before designing EOTAC's first pants.
He said: "My initial impressions are the reason I'm in the clothing business now. I was so disappointed with the fit of the first tactical pants I wore. Then after you washed them a few times, the fit got worse. Not to mention the fading and inconsistent cut from pant to pant. For what I was paying for those pants, I definitely expected more."
We're certain these new uniform trousers won't disappoint. Scope the details below.
Operator-Grade Duty Pant ($59.99)
New York City Police Style
Proprietary Tacti-Fit™ Sizing System
Tack-Button Closure
Gripper Waistband
Gusseted Crotch
Front Slash Pockets
Utility Pockets
Multi Function Bellows Cargo Pocket with internal magazine loops on Right Leg
Bellows Cargo Pocket with internal magazine loops on Left Leg
Knee Reinforcement
Reinforced Belt Loops
Double Access Bellows Back Pockets
Permanent Creases
Sizes 32 to 44, inseam length of 36″ un-hemmed